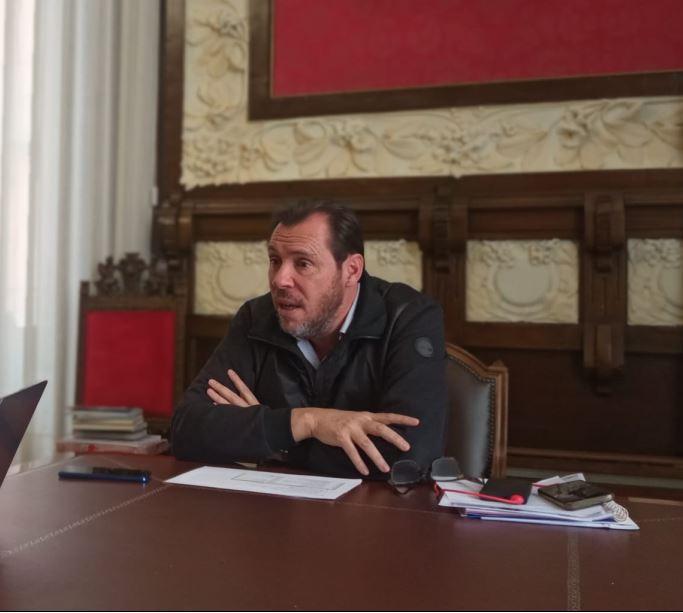 Paris, the 13th of April 2023
The next stop in our World Mobility Tour is to the city of Valladolid. Our discussion with Oscar Puente, the Mayor of the city, enables us to discover all the aspects and the strategy of this city regarding the mobility topic.
Embarked on a city redesign process, participating in projects like "Connected Cities" and "Horizon Europe: One Hundred Climate-Neutral Smart Cities by 2030", pioneer in traffic restrictions to preserve air quality, and in reducing the speed limit to 30 km/h in the city center before it was mandated by the Spanish traffic code; Valladolid is taking significant steps to become a sustainable mobility capital.
In the city, there is a high use of public transport, walking, and an increasing use of bicycles. It is also one of the Spanish cities most closely linked to the automotive sector and the development of cars in the country, a relationship that it hopes to strengthen further with the arrival of a new electric battery factory.
Arval Mobility Observatory: What are the main sustainable mobility measures that Valladolid is currently developing?
Oscar Puente: The recipes are well known and respond to a pattern, which is the rebalancing of the city's public space and increasing the number of people who move sustainably, healthily, and safely in our city in the coming years. Regarding the pattern, it is clear that the car gained a lot of space over several years and also did so without any type of control.
I always say that no mobility plan was necessary to bring cars into the streets, but every time we want to reduce them, we are required to have a mobility plan. We have experienced this even from a legal perspective. Until now, all mobility measures in Valladolid were taken by decree, and when we decided to create bike lanes that took up car lanes, we were required to have a mobility plan.
What we are doing is rebalancing the space. We are giving more space to the most common forms of moving in our city; in fact, here the 51% of journeys are on foot. Public transportation represents approximately 17%, while the remaining 34% brings together other modes of mobility. Cars only represent 30% of daily trips, however they occupied up to 85% of public space. Therefore, we had to seek a rebalance at that point.
We are focusing on three main directions: giving more space to bicycles, promoting better pedestrian itineraries and spaces, and creating more reserved platforms for public transportation.
In fact, you have recently launched a new bicycle service. What can you tell us about BIKI?
The service is being an overwhelming success.In just one month, we have tripled the number of users of the previous bicycle rental system. We are now moving in a number of users that also triples that one of the best day, of the best month, of the service that was running during the previous 10 years. In other words, in a short space of time, the use of rental bikes has become normal in our city; And that, speaking of deadlines and in terms of mobility, is practically a miracle... since these new forms of mobility that imply a cultural change they use to need time to be implemented and adopted by the citizens. The success is also measured in terms that before we received complaints from some residents about the deployment of the service in their street, that removed 3 parking spaces for cars... and now many of them ask us to install it in their street, near of their factory, of their work center, of their hospital... In addition, the municipalities of the metropolitan area are asking us about it.
Valladolid is one of the pioneer cities in wanting to develop a MaaS platform in Spain. What can you tell us about the "Connected Cities" project where you are involved? When it will be available and what it will consist of?
It is a project that involves six cities in Spain, financed with the recovery, transformation and resilience funds. Valladolid has led the project, as it has been the city that has presented the project, although always hand in hand with the other five cities. The idea is to create a single technological platform for public transport that can be used in all these cities; this will allows sharing from payment tools to data among us.
If I'm not mistaken, the project is endowed with 22 million euros from the European Union, so it is an ambitious and very interesting project... and it exemplifies that these 6 cities share a similar idea about mobility, and that I think that is the line that Spanish cities must follow in the future; In many respects, we are significantly behind other European cities in mobility.
We are also seeing that some European cities are implementing 'Mobility Hubs', that is, spaces where shared and sustainable mobility services are concentrated. Is this something that Valladolid is also considering in the short/medium term?
We are currently building our mobility management hub, also financed with European funds. We are building it at the Auvasa headquarters and from there we will control everything from public transport to the bike rental service and even vertical mobility, with the addition of new lifts. In this last point, and although our city is mostly flat, the Parquesol neighborhood is on a hill and we have installed an elevator and another will be in service soon. Public parking lots will also be managed from this mobility hub. Let's say it is going to be a global control hub for the city's mobility that, if the deadlines are met, will be finished in three months.
Mobility changes are usually come alongside with a redesign of the city, which in Valladolid has already meant that several streets have been made pedestrian and the creation of the VA10. What more changes can we expect in the design of Valladolid in the coming years?
For me the most important challenge is the cycling infrastructure. We are still very far from what I believe that it should be a city that offers comfort and safety to bicycle users. There are many people in Valladolid who believe that we have made many bike lanes in this mandate. This perception is drive because the fact that they compare it with the situation that existed in the city previously. Nevertheless, we are very far from having a network of interconnected cycle lanes. For me, the great challenge for the coming years in terms of the design of the city is to definitively have this mesh of interconnected bike lanes.
Valladolid was one of the first cities in Spain to implement an ordinance and measures to restrict traffic in certain episodes of air quality high pollution. So, actually, we could say that low emission zones are not something new for the city, what benefits do you see in them?
It is true that we approved an ordinance that, by the way, we have not had to activate its application during the last 3 years. In 2015, during our first year in government, it was active up to eight times, completely cutting off traffic in the city center. This means that the mobility measures that we have been implementing, for the moment without the need for the low emission zone, are working. Low emission zones are, first, a legal obligation; and therefore, we have to obey the law and comply them. Secondly, I think they will help us to be one more pillar in the construction of safe, sustainable and healthy mobility. The fact that circulation in these low emission zones is limited to only low-polluting or zero-emission vehicles is also going to lead, surely, to a renewal of the fleet and also to less use of the vehicle in general lines throughout the city; and will help citizens to choose for other mobility models in Valladolid.
In Valladolid, the traffic restriction is going to be through environmental labels, I imagine. Is it going to be as restrictive as possible? Or only for unlabeled vehicles?
We are going to do it in different phases. There will be a first phase during the year 2024 in which only vehicles without a label will be affected; and, from there, we have a progressive plan, from 2025 to 2030, in which we will gradually restrict the use of vehicles.
The European Commission has also chosen you for its 'Horizon Europe' program. Could you explain to us how this program runs and what are the challenges for Valladolid to fulfil the program?
We are one of the 100 European cities and one of the seven Spanish cities chosen for this project. Being among the seven Spanish cities is already a success for us, since five of them are the most populated cities: Madrid, Barcelona, Valencia, Seville and Zaragoza. And the other is Vitoria, a model to follow today.
In Valladolid, 3% of trips are made by bicycle. In Vitoria, the use of the bike represents 18% of the journeys. In other words, we no longer have to go to cities like Amsterdam, since in Vitoria we have a model to look at. Vitoria is there on its own merits. And the other five are by population. The fact that Valladolid has slipped in there, when it was a city that in terms of mobility was in the last century until recently, indicates that we are a city that has improved a lot in recent years and that we have shown that we have the ambition and the tools to be in that club, which is basically a club that wants to accelerate decarbonization.
That goes through mobility, but it also goes through other measures. Right now, in Valladolid a heat network is being built that will serve the entire city, which will be completed in the year 2030. By that year, the entire city will be a heat district, as Copenhagen can be today. That is a revolution for a city, especially when it is not like cities in the south of Spain, where heating, let's say, has little impact on the level of pollution. Here, the contamination partly also comes from the heating. Therefore, we bring together mobility measures, heating measures, home efficiency renovation measures... We are implementing, through our general urban plan and our policies, a complete renovation of the existing urban scene. We want a compact urban scene, and above all, we want to take advantage of what already exists; That is why what we are doing is promoting the rehabilitation of the current urban scene. With all this, what we want is to reach 2030 and meet the goal of decarbonizing our city. It is a very ambitious goal.
Valladolid is a region traditionally closely linked to the automotive industry. After the latest measures adopted in terms of mobility by the European Commission, how do you plan to promote and support the development of electric vehicles?
Fortunately, we have a factory in Valladolid for vehicle assembly, another for engines, we have a very close one, in Villamuriel de Cerrato, which although it is in the province of Palencia, it is supplied with workers from Valladolid, and soon we will have another two factories related to the automotive industry: one for electric buses, Switch Mobility, and another one for InoBat batteries. Therefore, it is evident that the automotive industry is experiencing a moment of splendor, both at present and expectations that we have for the future. We believe that the future of our factories is not directly linked to the mobility measures that we adopt, or that are adopted in other cities. The automobile industry has to deal with a scenario in which the European Union is betting heavily on the rationalization of the private vehicle; but the thing is that the cars that are made here, they are not sold only here. They are sold in all parts of the world and, fortunately, what is important for the future of the automotive sector in Valladolid is that we have competitive factories, with a good climate of social dialogue, with high qualifications of its workers and with a good relationship between production costs and the profits that the brands can obtain from these vehicles.
Therefore, we largely unlink our measures from the future of our factories, because, in principle, they have no relationship at all. What we can help with is offering our factories a test bench for future technologies and one of them is the connected car. In relation to the autonomous car, Valladolid is currently working on a big project with Renault to develop a space in which to test a car with these characteristics in the future. It is a project that is, let's say, struggling for financing from EU recovery funds, and that is where we believe we can help our factories, so that our cities are good test benches for the technologies that may arrive.
Finally, with all these projects that we have discussed, does Valladolid aspire to become a city of 15 minutes?
I think it already is. Actually, Valladolid is a 5-minute city in almost everything, not a one of 15, but 5. Work may be further away, but talking about services and all that is needed, Valladolid is already today a city under 15 minutes clearly.