Interview with Michael Cole, President and CEO of Hyundai Motor Europe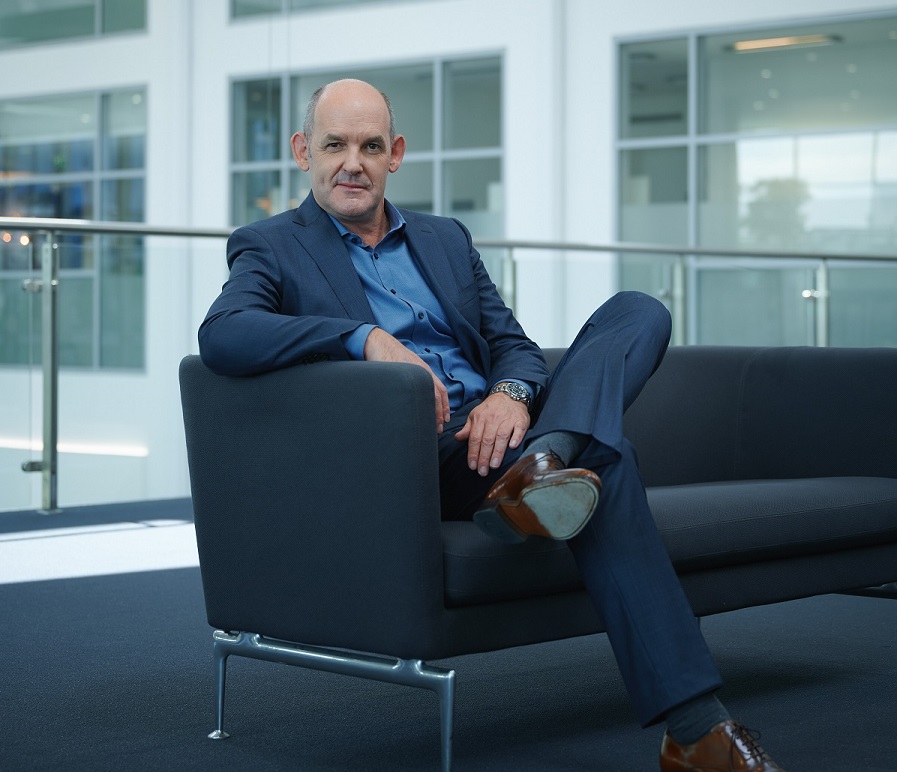 Paris, 08th of June 2021
In the middle of an unprecedented revolution in the automotive industry, Michael Cole, President and CEO of Hyundai Motor Europe, explains to the Arval Mobility Observatory the strategic pillars upon which the company will evolve in the coming years.
1. Arval Mobility Observatory: During the last few years, where were your key areas for investment?
a. Battery technology?
Michael Cole: Hyundai first experimented with battery technology in the 1990s with our first pure electric car, the Sonata Electric Vehicle prototype, which was unveiled in 1991.
In 2016, Hyundai introduced the IONIQ, the world's first car to offer three electrified powertrains – hybrid, plug-in hybrid and full electric. Its name derives from the words 'ion' and 'unique'.
The original IONIQ Hybrid's electric motor delivered 32 kW (43.5 PS) with maximum torque of 170 Nm, powered by a lithium-ion-polymer battery with 1.56 kWh capacity positioned under the rear seats.

The original IONIQ Plug-in delivered an estimated 50 kilometres of pure electric driving range powered by a potent 8.9 kWh lithium-ion polymer battery.

The original IONIQ Electric offered pure e-mobility through a 28 kWh Lithium-ion-Polymer battery for an estimated range of over 250 km.
This was followed in 2018 by the launch of the Kona Electric, Europe's first all-electric subcompact SUV. The 2020 model year update offers two different zero-emissions battery electric powertrains, with no compromises on performance. The long-range version with a 64 kWh battery features has an estimated range of 484 km (WLTP). The basic version has a battery capacity of 39.2 kWh and an estimated range of 305 km (WLTP).
We recently launched our EV-dedicated lineup brand, IONIQ. This opens a new chapter for Hyundai as a leader in the era of electrified mobility. Under IONIQ, we will offer customer centric EV experiences centered on connected lifestyle solutions in line with our 'Progress for Humanity' company vision.
The first model under the IONIQ line-up brand is the IONIQ 5 midsize CUV, presented earlier this year. In the next years, IONIQ 6 and 7 will follow based on the same platform.
b. Fuel Cell mobility?
For 20 years, we have been working on Fuel Cell Technology. Mass production of our first Hydrogen Fuel Cell EV began in 2013 with the ix35 Fuel Cell. We launched NEXO, our second-generation FCEV, in 2018. This technology presents some clear advantages: travelling long distance (666 km on a single charge), fast refuelling, and suitable for heavy- duty trucks. We will launch our third-generation FCEV very soon.
c. Alternative mobility solutions?
Hyundai is no longer simply a car manufacturer – we are thinking beyond mobility and transforming ourselves into a smart mobility solution provider. Beyond just building cars, we are also developing a number of products to assist with first- and last-mile mobility. Last year, Hyundai Motor Group revealed a prototype electric scooter with a 20 km range. It boasts rear-wheel drive, a highly-capable lithium battery and stylish front and rear lights. More concretely related to walking, HMG has also developed a series of exoskeletons. These personal mobility solutions can provide independent personal mobility for people with physical disabilities, such as people with paraplegia or the elderly. Our H-MEX advanced wearable robot helps patients with lower spinal cord injuries regain the ability to walk. This has great potential to enable freedom in mobility for people who are otherwise disadvantaged – particularly people who live in areas where the infrastructure is not adequately accessible to meet their mobility needs. Also Urban Air Mobility (UAM) will play a strong role for us as well. At CES 2020 we have presented our full Urban Air Mobility ecosystem and will continue pursuing into this direction. The first UAMs will fly middle of this decade.
d. Connected vehicles?
In 2016, we unveiled our Level 4 Autonomous IONIQ concept during that year's Automobility LA. Building on the capabilities of IONIQ, the car's hidden LiDAR system allows the car to detect the absolute position of surrounding vehicles and objects. In coming years, Hyundai Motor Group (HMG) will further invest to accelerate the development of Level 4 autonomous vehicles. Through HMG's strategic partnership with Aurora, Hyundai and Kia are collaborating on self-driving technologies. We are expanding our research to a wide range of models in order to build an optimal platform for Hyundai and Kia's autonomous vehicles. Last year, HMG formed an autonomous driving joint venture with Aptiv, which will advance the design, development and commercialisation of SAE Level 4 and 5 autonomous technologies. This year, we began testing fully driverless systems and we will have a production-ready autonomous driving platform available for robotaxi providers, fleet operators, and automotive manufacturers in 2022.
e. AI?
We are making investments in artificial intelligence through Hyundai CRADLE, our corporate venturing and open innovation business. As well as AI, this focuses on seed-to-growth investments in fields such as Robotics, Mobility-as-a-service (MaaS), Smart energy solutions, and Smart cities (including mobility services and cyber security). Some CRADLE investments include Allegro.ai, a deep-learning computer vision start-up whose AI technologies can be used to improve autonomous driving. Meanwhile, MDGo is an AI safety system which, in case of an accident, virtually reconstructs the crash, predicts driver injuries and shares them with emergency response personnel. CRADLE is reinforcing external collaborations in order to speed up the development of cutting-edge technologies crucial to commercialising autonomous vehicles, which will provide customers freedom in both space and time.
2. During the coming years, where are you key areas for investment?
Hyundai will shift from being a pure car manufacturer to become a Smart Mobility solutions Provider. To achieve this goal, the company will continue to make mid- to long-term investment to lay the foundation for sustainable growth in the upcoming years. Our Strategy 2025 roadmap is supported by three key pillars: Smart Mobility Device and Smart Mobility Service—both part of the original plan revealed in 2019—as well as H2 Solution, the addition of which reflects Hyundai's commitment to fuel cell development and commercialization. In order to achieve this goal, Hyundai will invest 60.1 trillion KRW (44.4 billion €) in the time frame from 2020 to 2025. From these, 23.5 trillion KRW (17.4 billion €) will be dedicated to future technologies, including electrification, hydrogen fuel cells, UAM, autonomous driving, mobility service and platform, connectivity, AI and robotics.
3. How do you see powertrains evolving in Europe over the next 10 years? 
At Hyundai, we are already future-proofing our business. Ninety per cent of our line-up is less than two years old. This means more modern and efficient engine technology.  Over the next 10 years, we will strongly focus on zero emission mobility solutions. This includes Fuel Cell vehicles and BEVs. We are in the good position to have a range of zero emission vehicles available for our European customers. It is our ultimate goal to achieve a global EV market share of 8 to 10 percent by 2040. Already now, we are leading in the field of zero emission mobility. By 2025 we plan to produce over 560.000 battery electric vehicles globally. Which will make us one of the biggest providers of zero emission mobility.
4. What is the future for hybrid powertrains including both full Hybrid and PHEV?
PHEVs have the potential to play a significant role in reducing to overall emission of the mobility sector. They still remain very interesting because for a vehicle like the Tucson we deliver an electric-only range of 56 kilometers. If you think about a lot of people's regular travel commuting, that's probably more than sufficient for a lot of them. This helps to significantly reduce emissions but also copes with an insufficient infrastructure. In 2021 Hyundai in Europe will see a drastic increase of PHEV sales. With Tucson, Santa Fe and the already existing IONIQ PHEV, we will be able to deliver a significant number of models with this solution.
5. Is the future BEV or will there be a role for Hydrogen?
Hyundai is one of the biggest providers of ZEVs in Europe with almost 60,000 vehicles sold in 2020. This represents 13% of our overall sales in Europe in 2020 and is the highest rate of all mass-manufacturers. The future will be Fuel Cell and BEV, and we are committed to both technologies. We think they complement each other and can peacefully coexist alongside one another. BEVs are more suited to day-to-day driving, while FCEVs will be effective for heavy-duty and long-distance travel, due to their long ranges and fast charging capabilities. We see a strong potential for FCEVs in the commercial shipping sector – specifically, with heavy-duty trucks. This will bring emissions-free solutions to both the private and the commercial sectors.
6. When will BEV achieve price parity with ICE vehicles?
The current situation raises the economies of scale to lower overall costs. Our most recent BEV, IONIQ 5, is competitively positioned price-wise, even though it offers some premium features such as 800V charging. This underlines our commitment to making high-quality mobility solutions accessible to all – which includes offering our vehicles at an achievable price point. We are already producing the KONA Electric at our Czech plant, making it the first electric car to be produced in the Czech Republic. This was an important move to make electric mobility available to all.
7. Do OEMs have a role in developing the charging infrastructure?
We play a role to not only deliver the zero emission mobility solution but also the infrastructure that supports this mobility. No matter how great the car is, nobody will buy it if they don't have a place to charge it. Beyond just building cars, Hyundai is committed to creating a full-scale electro-mobility ecosystem to support wider adoption of zero-emissions mobility solutions. That's why we've partnered with IONITY, the largest network of high-power charging stations in Europe. We also recently launched Charge myHyundai, our new pan-European charging service which allows customers to access more than 160,000 charging points across Europe using a single account. And we're supporting in building up a green hydrogen ecosystem in Switzerland. Each of these steps is necessary for our future business.
8. How do you see mobility evolving in Europe over the next 10 years?
No one can predict the mobility solutions of the future, but we are pretty sure that the future will be electric. The pace of change in automotive industry will accelerate faster in next 10 years than previous 100, but Hyundai is well prepared. We have already kicked off the transformation process by moving to become a Smart Mobility Solutions Provider. Our current and future products and services are in line with the needs of customers and of legislation. Hyundai still a young brand and we are transitioning from being a fast follower to a leader in eco-mobility. It is the company's progressive spirit that has led Hyundai to where it is today. This is our chance to further progress our customer-centric mobility solutions and lead the industry in future mobility.
9. What major changes are you expecting in your industry in the coming years?
As the European market changes, governments will impose stricter fuel emissions targets, and customer expectations are rising. Therefore, my priority is to make sure Hyundai is fit for the future. In addition, the pandemic has brought with it new challenges, but also new opportunities. We look at these challenges not so much as a disruption to our existing business but as a catalyst to accelerate new business opportunities. We were already well on our way to electrifying our product line-up and making our vehicles even more fuel efficient, even before tightening emissions regulations made it a requirement. And we were already planning on implementing digital tools and digital sales processes, even before the pandemic.
10. How the COVID crisis has changed your product strategy?
While sales were affected by the temporary volatility of the markets, our overall business direction and strategy have not changed. COVID-19 was not a disrupter for Hyundai. Rather, it was a catalyst which sped up changes Hyundai Motor Europe was already planning on making. It rather had an impact on the distribution than the products, which we already develop with a clearly customer centric approach. For one, the crisis has sped up digitisation and creating an infrastructure for online sales at Hyundai. We have made the process of buying a car online even easier with the launch of new digital sales initiatives such as Live Chat Video, Click to Buy, Click2Drive, and an online showroom. This fits in well with Hyundai's new business direction: evolving from a static company to an agile one. It complements our transformation from a car manufacturer to a provider of holistic mobility solutions. While others are still thinking, we are successfully doing.
11. How do you see the future of distribution of vehicles? The dealership of tomorrow? Online orders?
Our vision is to provide customers a seamless omni-channel retail experience. Online will not replace offline – rather, it will complement it. Hyundai has already gathered experience and is extending it in this field. Our Online Showroom will be a place for initial research and information about the different Hyundai models. But for us our dealers are still and will be a central touchpoint in our customer journey and distribution of vehicles.